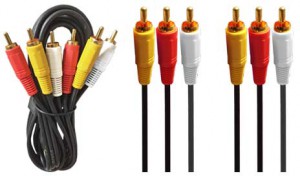 3xRCA Plugs to 3xRCA Plugs Cable (Composite Video & Stereo Audio connectors).
This cable has 3 connections at each end (Red,White,Yellow) Suitable for connect TVs,
DVD Players, home cinema systems, projectors, STBs, Capture Devices, Games
Consoles, Video Cameras, amplifier,  TV & AV receiver.
SPECIFICATIONS
● Connections: 3 x RCA (male)
● Connections: 3 x RCA (male)
● Connector plugs – Gold Plated
● Connector rings – Strain-relief rings
● Wires – Copper OFC (oxygen-free copper)
● Color Code – Red,White,Yellow
● Compatible With Aux Cable
● Length – 1.5m
● Jacket – PVC jacket
● Color – Black
● Brand – Red & Green Brand
The use of oxygen-free copper (OFC), gold plated connector plugs, plastic
materials, etc makes better signal transmission that ensure good picture and
sound quality with added flexibility and dependability. Gold plated full metal
connectors prevent from corrosion.
Red & Green Brand, 3RCA to 3RCA Cabl is Manufactured by KRI (Kumarasinghe Radio Institute)