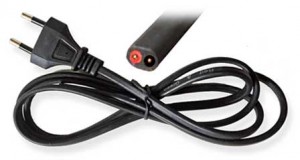 This power cord is used in manufacturing electrical products.
SPECIFICATIONS
● Conductor –  Copper (Oxygen free copper)
● Length – 1.3 Meters
● Voltage –  support 110V to 250V
● Amperage – 5A
● Jacket – PVC Jacket
● Color – Black
● Plugs into any AC wall socket
● Brand – Red & Green Brand

General Description
Red & Green Brand Universal AC power cord made to fit any 2 prong AC adapter.
The power cord can be plugged into any 110 to 250-volt AC wall socket. Works
with Sri Lanka's standard voltage which is 230 V.
The male connector plugs into a standard power outlet, while the open end
connect directly into the device.
Red & Green Brand is one of the highest selling, cost effective power cords in Sri Lanka.
Manufactured by KRI (Kumarasinghe Radio Institute)